Top 5 Trends In Leather Manufacturing To Watch.Leather manufacturing is an ever-evolving industry and it's important to keep up with the latest trends. By doing so, leather manufacturers can stay ahead of the competition, while still keeping up with consumer needs and desires. In this article, we'll explore the top five trends in leather manufacturing that you should be watching out for. From new materials to more efficient processes, these trends will help ensure that your products remain competitive in today's market. So without further ado, let's dive into what's hot in leather manufacturing right now.
The Different Types Of Leather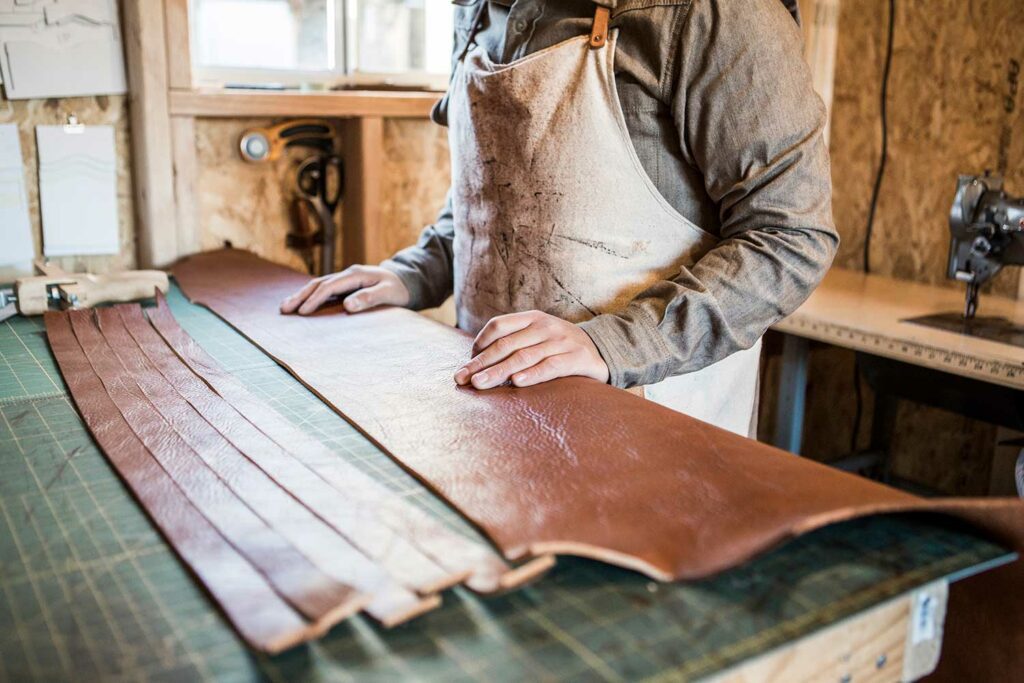 When it comes to leather, there are a few different types that are commonly used. The most popular type of leather is cowhide, which is made from the skin of cattle. Other common types of leather include pigskin, goatskin, and sheepskin.

Each type of leather has its own unique set of properties, which make it more or less suitable for different applications. For instance, cowhide is the strongest and most durable type of leather, making it ideal for products that need to withstand a lot of wear and tear. Pigskin, on the other hand, is softer and more pliable, making it better suited for items that need to be bend or flexed frequently.

Goatskin and sheepskin are both relatively soft and delicate, making them good choices for items like clothing and footwear that won't see a lot of heavy use.
The Different Manufacturing Processes
There are several different leather manufacturing processes, each with its own set of benefits and drawbacks. The most common processes are as follows:

1. Tanning: Tanning is the process of treating skins and hide to preserve them and make them durable. This process can be done using a variety of chemicals, including vegetable tannins, chromium salts, and aluminum sulphate. The benefits of tanning include increased durability, resistance to rot and mold, and improved appearance. However, the chemicals used in tanning can be harmful to the environment, and the process can be damaging to the hides themselves.

2. Coating: Coating is a process that involves applying a thin layer of material to the surface of the skin or hide. This layer can be made from a variety of materials, including synthetic polymers, waxes, oils, and dyes. The benefits of coating include increased durability, resistance to staining and fading, and improved appearance. However, the coatings can be difficult to remove if they become damaged, and they may not last as long as other methods of protection.

3. Finishing: Finishing is the process of applying a final layer of material to the surface of the skin or hide. This layer can be made from a variety of materials, including synthetic polymers, waxes, oils, dyes, or paints. The benefits of finishing include increased durability, resistance to staining and fading, improved appearance, and added protection
The Various Uses For Leather
Leather is a popular material for a variety of products, including clothing, upholstery, shoes, belts, and accessories. It can also be used to make bookbinding and other paper products. Leather is strong and durable, making it an ideal choice for many applications.

In the past, leather was mostly used for utilitarian purposes. Today, however, it is increasingly being used in fashion and design. This trend is likely to continue as leather becomes more widely available and more affordable.

Some of the most popular uses for leather include:

Clothing: Leather jackets, pants, skirts, dresses, shirts, and even underwear can be found in stores today. Leather is often seen as a luxurious fabric, and it can add a touch of sophistication to any outfit.

Upholstery: Leather furniture is becoming increasingly popular due to its durability and style. Many people choose leather sofas and chairs because they are easy to care for and look great in any room.

Shoes: Leather shoes are comfortable and stylish. They are also very durable, making them a good investment.

Belts: Belts made of leather are both functional and fashionable. They can be dressed up or down to suit any occasion.

Accessories: Leather wallets, bags, briefcases, laptop cases, and cell phone cases are just some of the accessories that are available in leather. These items can add a touch of luxury to any outfit.
The Pros and Cons of Leather Manufacturing
There are a variety of leather manufacturing processes, each with its own set of pros and cons. Here are some of the most common methods and their advantages and disadvantages:

1. The Pros and Cons of Leather Manufacturing

2. The Pros and Cons of Vegetable-Tanned Leather
3. The Pros and Cons of Chrome-Tanned Leather
4. The Pros and Cons of Aldehyde-Tanned Leather
5. The Pros and cons of Synthetic Tanning Agents
The Future of Leather Manufacturing
As the world becomes more aware of the importance of sustainability, the future of leather manufacturing is likely to change. Here are some of the top trends in leather manufacturing to watch:

1. Increased focus on sustainability

As consumers become more aware of the environmental impact of the products they purchase, they will increasingly demand sustainable options. This means that leather manufacturers will need to find ways to reduce their impact on the environment, whether that means using sustainable materials, investing in renewable energy, or finding other innovative solutions.

2. More use of technology

As technology advances, it will play an increasingly important role in leather manufacturing. For instance, 3D printing could be used to create customised leather products, while digital technologies can be used to track and manage inventory more efficiently.

3. Greater emphasis on quality

With consumers becoming more discerning about what they purchase, there will be a greater emphasis on quality in the leather industry. This means that manufacturers will need to focus on producing high-quality products that meet customer expectations.

4. A shift towards local production

As global trade becomes more complex and expensive, there is likely to be a shift towards local production of leather goods. This could involve investing in local tanneries and other infrastructure required for leather production.